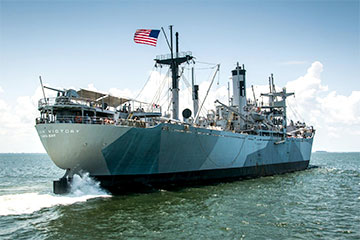 American Victory Ship
Website:
American Victory Ship
Address: 705 Channelside Dr, Tampa, FL 33602
Phone: (813) 228-8766
Tickets:
Buy American Victory Ship Tickets
Upcoming Events:
Events Calendar
Social Media:



The American Victory Ship is one of four fully operational WWII ships in the country. It is a world-class, shipboard, maritime museum dedicated to honoring the men and women who built, sailed, protected and provided service, worldwide, through the American Merchant Fleet since 1775 during times of peace and war. The American Victory Ship and Museum is a mighty beacon to veterans, active military and its community. It transports you back nearly seven decades to when brave sailors fought the harsh seas to reach their comrades around the world servicing in the United States Army, Marine Corps, Navy, Air Force, and Coast Guard, carrying ammunition, goods, cargo, equipment, materials and troops necessary to defend our county. As the "unsung heroes" of numerous conflicts and the military, the merchant marines experienced the highest percentage rate of casualties of any service.
Hours
Mon: 12:00 PM – 5:00 PM
Tue – Sun: 10:00 AM – 5:00 PM
Closed Easter April 4
Pricing
Members: Free
Adults: $10
Seniors 65+: $8
Veterans: $5
Students with ID: $8
Children (4-12): $5
Children 3 and under: free
Groups of 10: Call for a discount
Additional Details
The American Victory Ship is right next door to The Florida Aquarium, Sparkman Wharf, Amalie Arena, The Florida Aquarium, Tampa Riverwalk, Tampa Bay History Center, and the Tampa Convention Center. Visit these locations for a fun-filled Florida day.
American Victory Ship Images
American Victory Ship Videos
American Victory Ship Map