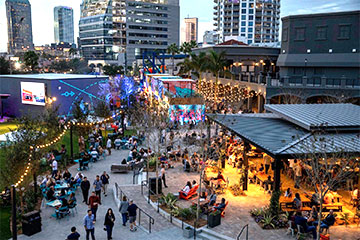 Sparkman Wharf
Website:
Sparkman Wharf
Address: 615 Channelside Dr, Tampa, FL 33602
Phone: (813) 618-5844
Upcoming Events:
Events Calendar
Social Media:



Situated on downtown Tampa's Garrison Channel waterfront and the Tampa Riverwalk, Sparkman Wharf features an intimate dining garden, locally-sourced beer garden, 65,000 square feet of ground-floor retail, live music, a 1-acre outdoor space with recreation lawn, and 180,000 square feet of spacious loft-style offices. Sparkman Wharf is a dynamic and vibrant piece of Tampa Bay's downtown waterfront. It is oriented towards the beautiful waterfront, which provides plenty of space for guests to drink, dine, and enjoy the views. Feel the spark of Tampa's latest outdoor and entertainment destination. It is one of the top community and cultural destinations in the area. Come and celebrate the best of Tampa—good weather, waterfront views, live music, craft beer, and exceptional dining.
Hours
Monday: Closed | Tuesday – Thursday: 12:00 PM – 9:00 PM | Friday – Saturday: 11:00 AM – 11:00 PM | Sunday: 11 AM – 9:00 PM
Parking
Garrison Lot – 651 Channelside Drive, Tampa, FL 33602
Channelside Parking Garage – 369 South 12th Street, Tampa, FL 33602
Additional Details
Sparkman Wharf is close to the heart of downtown Tampa. It is within walking distance to the Amalie Arena, The Florida Aquarium, American Victory Ship, Tampa Riverwalk, Tampa Bay History Center, and the Tampa Convention Center. You can spend the day enjoying these amazing attractions!
Sparkman Wharf Images
Sparkman Wharf Videos
Sparkman Wharf Map