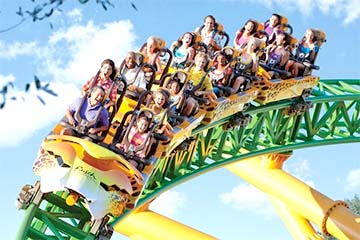 Busch Gardens Tampa Bay
Website:
Busch Gardens Tampa Bay
Address: 10165 McKinley Dr, Tampa, FL 33612
Phone: (813) 884-4386
Social Media:




If you're visiting Tampa, it's almost a requirement to go to Busch Gardens! We highly recommend it; it's always a fantastic time. At Busch Gardens Tampa Bay you can experience Florida's best roller coasters and extraordinary rides for the whole family. Busch Gardens also has one of the largest zoos in North America. It is home to more than 12,000 animals from 300 different species. Plus, enjoy family-friendly, live entertainment from world-class performers – along with a few rescued rising stars.
Busch Gardens Tampa Bay is right across the street from Adventure Island water park. You can plan ahead and save money with a two park pass. You can also purchase three and four park tickets if you want to visit SeaWorld Orlando and Aquatica Orlando in Orlando, Florida (about an hour away).
View Pricing and Order Tickets Online

Busch Gardens Tampa Bay Images
Busch Gardens Tampa Bay Videos
Busch Gardens Tampa Bay Map