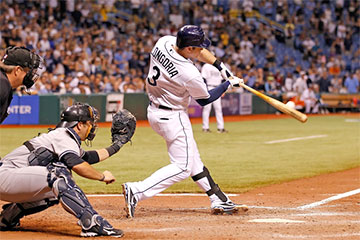 Tampa Bay Rays
Website:
Tampa Bay Rays
Phone: 888-326-7297
Place: Tropicana Field
Address: 1 Tropicana Dr., St. Petersburg, FL 33705
Social Media:




The Tampa Bay Rays are an American professional baseball team based in St. Petersburg, Florida. The Rays compete in Major League Baseball (MLB) as a member club of the American League (AL) East division.
Following nearly three decades of unsuccessfully trying to gain an expansion franchise or enticing existing teams to relocate to the Tampa Bay area, an ownership group led by Vince Naimoli was approved on March 9, 1995. The Tampa Bay Devil Rays began play in the 1998 Major League Baseball season.
Purchase Tampa Bay Rays Tickets

View Pricing and Availability
StubHub is our trusted resale marketplace, not a box office or venue. Prices may be above or below face value.
The team's first decade of play was marked by futility; they finished in last place in the AL East in all but the 2004 season, when they finished second to last. Following the 2007 season, Stuart Sternberg, who had purchased controlling interest in the team from Vince Naimoli two years earlier, changed the team's name from "Devil Rays" to "Rays", now meant to primarily refer to a burst of sunshine rather than a manta ray, though a manta ray logo remains on the uniform sleeves. The 2008 season saw the Tampa Bay Rays post their first winning season, their first AL East championship, and their first American League pennant (defeating the rival Boston Red Sox in the ALCS), though they lost to the Philadelphia Phillies in that year's World Series. Since then, the Rays have played in the postseason six more times, winning the American League pennant again in 2020 and losing to the Los Angeles Dodgers in that year's World Series.
The Tampa Bay Rays' chief rivals are the Boston Red Sox and the New York Yankees, which also play in the AL East. The Rays also have an intrastate interleague rivalry with the National League (NL)'s Miami Marlins, whom they play in the Citrus Series.
Tampa Bay Rays Videos
Tampa Bay Rays Map
Last Modified Date: May 28, 2022