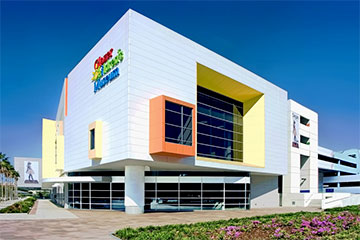 Glazer Children's Museum
Website:
Glazer Children's Museum
Address: 110 W Gasparilla Plaza, Tampa, FL 33602
Phone: (813) 443-3861
Tickets:
Buy Glazer Children's Museum Tickets
Upcoming Events:
Events Calendar
Social Media:




Glazer Children's Museum is a fun and educational place where children and their parents can learn through play and shared discovery. Created specifically for children under 12, the Museum offers 170 'interactivities' in multiple themed areas for families to explore, connect while having fun along the way.
Housed in a 53,000-square-foot facility in downtown Tampa, the museum features 170 interactive exhibits in multiple themed areas. Traveling exhibits occasionally supplement the museum's permanent collection as well.
The Glazer Children's Museum is a children's museum located in downtown Tampa, Florida, next to the Tampa Museum of Art and Curtis Hixon Park, alongside the Tampa Riverwalk. It is part of the Waterfront Arts District.
Attractions and Ammenities
Get inspired in Art Smart
Master money at the Central Bank
Build and create in theEngineers' Workshop
Learn where your food comes from in the Farm
Save the day in the Firehouse
Create new worlds in Forts
Explore the world around us in Global Cafe
Splash and explore in KidsPort
Create sound and color in Light Cloud
Cook up something delicious in the Pizza Place
Grocery shop in Publix
Try on different healthcare roles in St. Joseph's Children's Hospital
Toddle and play in Tugboat Tots
Put on a show in the Twinkle Stars Theater
Care for cuddly critters in the Vet Clinic
Climb to the clouds in Water's Journey
Hours – *Subject to Change
Mon: Closed
Tue – Fri: 10:00 AM – 5:00 PM
Sat: 10:00 AM – 6:00 PM
Sun: 1:00 PM – 6:00 PM
Pricing – *Subject to Change
Children Under Age 1: Free
Children Ages 1 – 12: $13.00
Adults: $15.00
Glazer Children's Museum is a part of Museums for All, a signature access program of the Institute of Museum and Library Services (IMLS), administered by the Association of Children's Museums (ACM), to encourage people of all backgrounds to visit museums regularly and build lifelong museum-going habits. The program supports those receiving food assistance (SNAP) benefits visiting Glazer Children's Museum for a minimal fee per person, up to four people, with the presentation of a SNAP Electronic Benefits Transfer (EBT) card.
Glazer Children's Museum Images
Glazer Children's Museum Videos
Glazer Children's Museum Map