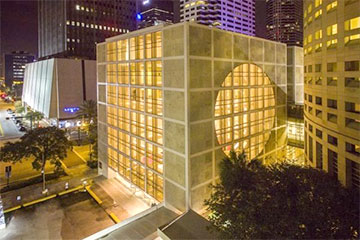 Florida Museum of Photographic Arts
Website:
Florida Museum of Photographic Arts
Address: Address: 400 North Ashley Drive Cube 200, Tampa, FL 33602
Phone: (813) 221-2222
Upcoming Events:
Events Calendar
Social Media:



The Florida Museum of Photographic Arts (FMoPA) is a museum in downtown Tampa, Florida that is dedicated to exhibiting important photographic art as central to contemporary life and culture. It is located at the Waterfront Arts District in Rivergate Plaza's architecturally significant Cube, a soaring six-story atrium recognized as one of the most impressive interior spaces on the west coast of Florida. FMoPA collects, preserves, and exhibits historic and contemporary works by nationally and internationally known photographic artists. FMoPA also enriches the community by operating outreach programs to educate children and adults.
Pricing
$10 Adults
$8 Students/Military/Seniors
Free for Museum Members
Hours Open
Mon: 12:00 PM – 5:00 PM
Tue: 12:00 PM – 5:00 PM
Wed: 12:00 PM – 5:00 PM
Thu: 12:00 PM – 5:00 PM
Fri: 12:00 PM – 7:00 PM
Sat: 12:00 PM – 5:00 PM
Sun: 12:00 PM – 5:00 PM
Florida Museum of Photographic Arts Videos
Florida Museum of Photographic Arts Map