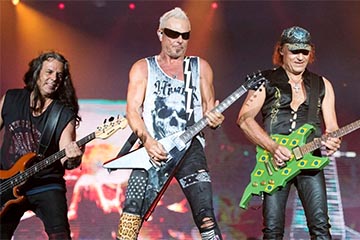 Scorpions & Whitesnake
Date: September 14, 2022
Time: 6:45 PM
Place:
Amalie Arena
Address: 401 Channelside Dr, Tampa, FL 33602
Price: Starting at $83.00 and subject to change.
The Scorpions and Whitesnake are performing at the Amalie Arena in Tampa, Florida on Wednesday, September 14, 2022 at 6:45 PM.
Scorpions are a German rock band formed in 1965 in Hanover by Rudolf Schenker. Since the band's inception, its musical style has ranged from hard rock, heavy metal, glam metal, and soft rock. The Scorpions are estimated to have sold over 100 million records around the world, making them one of the best-selling hard rock and heavy metal bands. One of their most recognized hits is "Wind of Change" (from Crazy World), a symbolic anthem of the political changes in Eastern Europe in the late 1980s and early 1990s and the fall of the Berlin Wall, and it remains as one of the best-selling singles in the world with over 14 million copies. Two of the songs on their ninth studio album Love at First Sting, "Rock You Like a Hurricane" and "Still Loving You", are regarded as some of the most influential and popular works, both in heavy metal music and among rock ballads, defined as "rock anthem" and "a true hymn of love".
Scorpions & Whitesnake on Spotify
Scorpions & Whitesnake Videos
Scorpions & Whitesnake Map