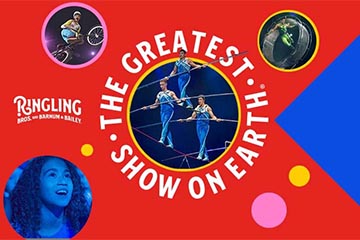 Ringling Bros and Barnum and Bailey Circus
Date: January 5, 2024 - January 7, 2024
Place:
Amalie Arena
Address: 401 Channelside Dr, Tampa, FL 33602
Price: Starting at $43.00 and subject to change.
Purchase Ringling Bros and Barnum and Bailey Circus Tickets

View Pricing and Availability
StubHub is a trusted resale marketplace, not a box office or venue. Prices may be above or below face value.
The Ringling Bros and Barnum and Bailey Circus is performing at the Amalie Arena in Tampa, Florida on Friday-Sunday, January 5-7, 2024.
Children Of all ages are invited to a spectacle of superhuman feats, pushing the limits of possibility and thrilling families and fans of all generations.
The Ringling Bros. and Barnum & Bailey Circus is an American traveling circus company billed as The Greatest Show on Earth. It and its predecessor have run shows from 1871, with a hiatus from 2017 to 2023. The circus started in 1919 when the Barnum & Bailey's Greatest Show on Earth, a circus created by P. T. Barnum and James Anthony Bailey, was merged with the Ringling Bros. World's Greatest Shows. The Ringling brothers had purchased Barnum & Bailey Ltd. in 1907 following Bailey's death in 1906, but ran the circuses separately until they were merged in 1919.
Ringling Bros and Barnum and Bailey Circus Videos
Amalie Arena Map