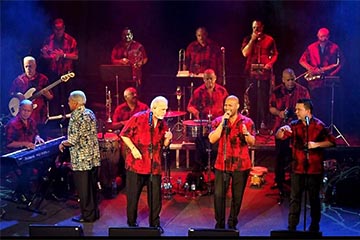 El Gran Combo De Puerto Rico
Date: October 2, 2022
Time: 6:00 PM
Place:
Seminole Hard Rock Hotel & Casino Tampa
Address: 5223 Orient Rd, Tampa, FL 33610
Price: Starting at $89.00 and subject to change.
Purchase El Gran Combo De Puerto Rico Tickets

View Pricing and Availability
StubHub is a trusted resale marketplace, not a box office or venue. Prices may be above or below face value.
El Gran Combo De Puerto Rico is performing at the Seminole Hard Rock Hotel and Casino in Tampa, Florida on Sunday, October 2, 2022 at 6:00 PM.
El Gran Combo de Puerto Rico, commonly known as El Gran Combo, is a Puerto Rican salsa orchestra based in San Juan, Puerto Rico. Celebrating its 60th anniversary in 2022, it was often considered Puerto Rico's most successful musical group. The group received the moniker La Universidad de la Salsa (The University of Salsa) in Colombia, due to the sheer number of famous salsa musicians and singers who developed their careers with it, who started with the group (particularly Andy Montañez), or who were occasionally backed up by the band and La India.
El Gran Combo De Puerto Rico on Spotify
El Gran Combo De Puerto Rico Videos
El Gran Combo De Puerto Rico Map