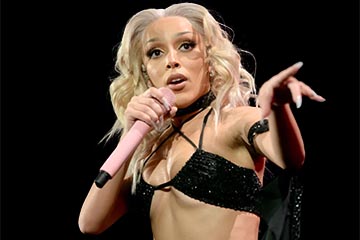 Doja Cat
Date: November 24, 2023
Time: 7:30 PM
Place:
Amalie Arena
Address: 401 Channelside Dr, Tampa, FL 33602
Price: Starting at $40.00 and subject to change.
Doja Cat is performing at the Amalie Arena in Tampa, Florida on Friday, November 24, 2023 at 7:30 PM.
Amala Ratna Zandile Dlamini (born October 21, 1995), known professionally as Doja Cat, is an American rapper and singer. Born and raised in Los Angeles, she began making and releasing music on SoundCloud as a teenager. Described by The Wall Street Journal as "a skilled technical rapper with a strong melodic sense and a bold visual presence", Doja Cat is known for creating music videos and songs that achieve popularity on social media websites such as TikTok. Well-versed in internet culture, she is also famed for her absurdist online personality and stage presence. She has received numerous accolades throughout her career, including one Grammy Award from sixteen nominations, five Billboard Music Awards, five American Music Awards, and four MTV Video Music Awards. She is one of the biggest commercial artists of the 2020s decade according to Billboard, and was named one of the 100 most influential people in the world by Time in 2023.
Doja Cat on Spotify
Doja Cat Videos
Amalie Arena Map