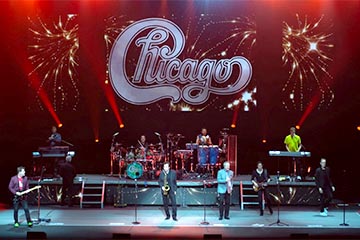 Chicago
Date: July 2, 2021
Time: 6:30 PM
Place: MIDFLORIDA Credit Union Amphitheatre
Address: 4802 US-301 North, Tampa, FL 33610
Price: Starting at $25.50 and may change.
Tickets:
Buy Tickets
Website:
Chicago
Social Media:




An Evening with Chicago and Their Greatest Hits is performing at the MIDFLORIDA Credit Union Amphitheatre in Tampa, Florida on Friday, July 2, 2021.
Chicago is an American rock band formed in 1967 in Chicago, Illinois, calling themselves the Chicago Transit Authority in 1968 before shortening the name in 1969. The self-described "rock and roll band with horns" blended elements of classical music, jazz, R&B, and pop music. They produced numerous top-40 hits over two decades, and continue to record and perform live.
Growing out of several Chicago-area bands in the late 1960s, the original line-up consisted of Peter Cetera on bass, Terry Kath on guitar, Robert Lamm on keyboards, Lee Loughnane on trumpet, James Pankow on trombone, Walter Parazaider on woodwinds, and Danny Seraphine on drums. Cetera, Kath, and Lamm shared lead vocal duties. Laudir de Oliveira joined the band as a percussionist and second drummer in 1973. Kath died in 1978, and was replaced by several guitarists in succession, the longest serving of which was Bill Champlin. Cetera left the band in 1985 and was replaced by Jason Scheff. Seraphine left in 1990, and was replaced by Tris Imboden. The band's lineup has been more fluid since 2000, but keyboardist Robert Lamm and the entire horn section of Loughnane, Pankow, and Parazaider have remained constant members.
Chicago on Spotify
Chicago Images
Chicago Videos
Chicago Map