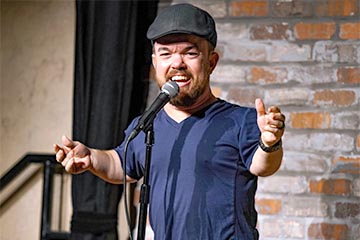 Brad Williams
Date: June 10, 2021 - June 13, 2021
Place: Tampa Improv
Address: 1600 E 8th Ave C-112, Tampa, FL 33605
Price: Starting at $28.50 and subject to change.
Tickets:
Buy Tickets
Website:
Brad Williams
Social Media:



Comedian Brad Williams is performing at the Tampa Improv on Thursday – Sunday, June 10 – 13, 2021.
Williams got his start by attending a Carlos Mencia live comedy show. While he was in the crowd, Mencia made jokes about dwarves. The people sitting close to Williams were scared to laugh. Mencia noticed this, then noticed Williams and he asked him to join him on stage. Williams cracked a few jokes and impressed Mencia. Mencia then asked Williams to try stand-up and be his opening act on the road. Williams has been Mencia's opening act ever since, opening up shows on both the Mind of Mencia tour and the popular Punisher Tour.
Brad Williams Images
Brad Williams Videos
Brad Williams Map