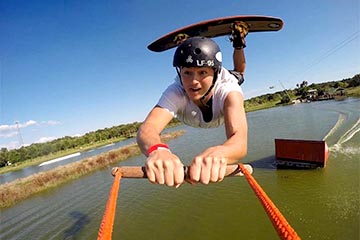 McCormick's Cable Park
Website:
McCormick's Cable Park
Address: 2020 McCormick Lakes Way, Seffner, FL 33584
Phone: (813) 681-4441
Social Media:



Located just outside Tampa, McCormick's Cable Park is the perfect place for riders of all skill levels to ride, hang out, and have a good time. The laid-back park is situated on a man-made lake that was specifically designed for cable wakeboarding. By reducing rollers/chop and creating challenging obstacles, they have created "wakeboarder's paradise". The park features 3 kickers, 4 rails, and 2 transfer boxes.
McCormick's Cable Park was established in 2008 by James and Michael McCormick. This was an addition to McCormick's Ski School, a family owned and operated business since 1954. McCormick's consists of a boat lake, main cable lake, and a two tower cable system used for beginners.
Hours – *Subject to change
Wed – Fri: 1:00 PM – 5:45 PM
Sat – Sun: 11:00 AM – 12:00 PM Slow Ride *Beginners
Sat – Sun: 12:00 PM – 5:45 PM Regular Full Speed Cable
Pricing – *Subject to change
1 Hour: $25.00
2 Hours: $28.00
4 Hours: $35.00
All Day: $48.00
McCormick's Cable Park Images
McCormick's Cable Park Videos
McCormick's Cable Park Map