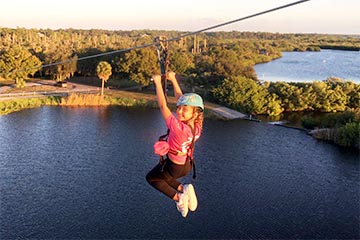 Empower Adventures Tampa Bay
Website:
Empower Adventures Tampa Bay
Address: 423 Lafayette Blvd, Tampa, FL 34677
Phone: (813) 448-5635
Social Media:




Easily accessed from Tampa or St. Petersburg, Empower Adventures Tampa Bay provides an experience that you won't want to miss. Gain a whole new perspective as you ascend a 60-foot-tall start tower, fly on FIVE invigorating 5-star rated zip lines totaling more than 3,000′ over water and land preserves, traverse a 200-foot wood suspension bridge, challenge yourself with our aerial obstacles, and take in the most incredible, one-of-a-kind panoramic view over Tampa Bay. You'll also encounter multiple aerial challenges and revel in pride as you conquer rope bridges, log swings, cable traverses and more while overlooking the wildlife and waters of Mobbly Bayou Wilderness Preserve.
Pricing
1.5-2 hour guided tour with 11 unique adventures
Zip Line Adventure – Starting at $74
Moonlight & Sunset Tours – Starting at $79
Hours Open
Open all year long – reservations are required – check availability
Ages Restrictions
You must be at least 7 years old to participate.
Weight Restrictions
All adventurers must be at least 70 lbs and no more than 270 lbs.
Empower Adventures Tampa Bay Images
Empower Adventures Tampa Bay Videos
Empower Adventures Tampa Bay Map