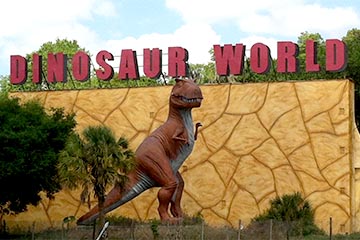 Dinosaur World
Website:
Dinosaur World
Address: 5145 Harvey Tew Rd, Plant City, FL 33565
Phone: (813) 717-9865
Tickets:
Buy Dinosaur World Tickets
Social Media:



At Dinosaur World Florida you will have access to over 200 life size dinosaurs along with the theme park's numerous shows and exhibits including the area's largest, interactive boneyard. The giant skeletal playground and the Prehistoric museum featuring an impressive collection of animatronic dinosaurs, prehistoric dinosaur eggs, raptor claws and everything dinosaur.
Additional encounters such as the Fossil Dig and the Dino Gem Excavation are also available for a nominal fee.
Additional Details
Wander among hundreds of life-sized dinosaurs in a natural setting
Interactive exhibits capture your kids' imaginations
Grab some tools and start excavating to uncover the 27-foot skeleton from under the sand
Dino-themed playground features slides, swings and all-around family fun
Friendly dogs on leashes are welcome
Boardwalks wind through natural areas shaded by centuries-old oak trees
A 7,000 square foot gift shop offers great values on prehistoric artifacts as well as toys, games and gorgeous geodes
There is no food service available at the park. Coolers are encouraged – bring your own healthy snacks and drinks
Field Trip rates for school trips Monday through Friday
Hours
Pricing
Adults: $16.95
Seniors (Aged 60+): $14.95
Children (Aged 3-12): $11.95
Children (Aged 2 and under): Free
Dinosaur World Images
Dinosaur World Videos
Dinosaur World Map